In the mining industry, jaw and impact crushers are commonly used to break and process rocks and minerals. The crushing and screening of rocks and minerals is an essential process in mining operations and downstream processing can be affected if the material does not meet the required particle size specifications.
In addition, with the continuous development of the mining industry and the continuous improvement of technology, there is an increasing need to improve production efficiency and material quality. The use of jaw crusher and impact crusher is well suited to meet this trend.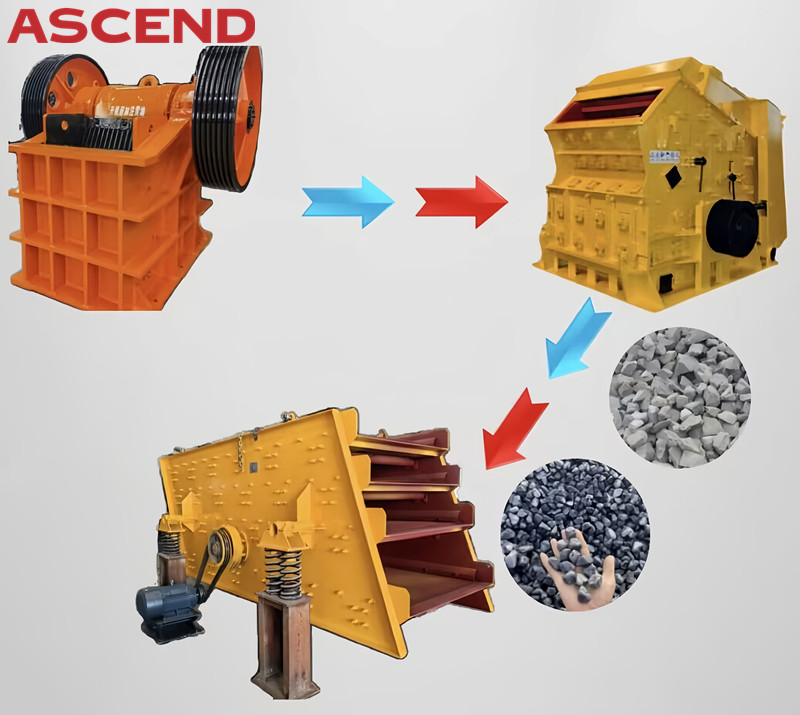 The process of this stone crushing line is mainly to first put the raw materials into the hopper by truck, and then transfer the raw materials to the jaw crusher through the vibration feeder for initial breaking, and then use impact crusher for second breaking. The crushed stone is screened by vibrating screen for four different sizes of, and the stone exceeding the particle size will be returned to the fine jaw crusher for re-crushing. This process forms a closed loop and works continuously.
To sum up, both jaw crusher and cone crusher play an important role in stone crushing plant. But the daily maintenance of cleanliness is also important, Jaw crusher's jaw plate and flywheel, belt wheel, eccentric shaft, impact crusher's blow bar and impact plate are important spare parts. Be sure to strengthen the protection, otherwise it will affect the use of the machine. Only in this way can we maintain high crushing efficiency and prolong the service life.