The mobile crushing plant has the advantages of instant start and stop, multi-point operation, etc., and is widely used in geological engineering projects such as infrastructure projects and mining.
The process of moving crushing plant first is mainly use the truck to put the raw materials into the hopper, and then transport the raw materials to the mobile jaw crusher for initial breaking through the vibration feeder, and then choose the impact crusher, fine jaw crusher, cone crusher hammer crusher, 2-roller crusher and other machines to properly select the secondary crushing according to the hardness of the stone. The crushed stone is sifted out of different particle size by vibrating screen, and the stone exceeding the particle size will be returned to the fine jaw crusher for re-crushing. This process forms a closed loop and continues to work.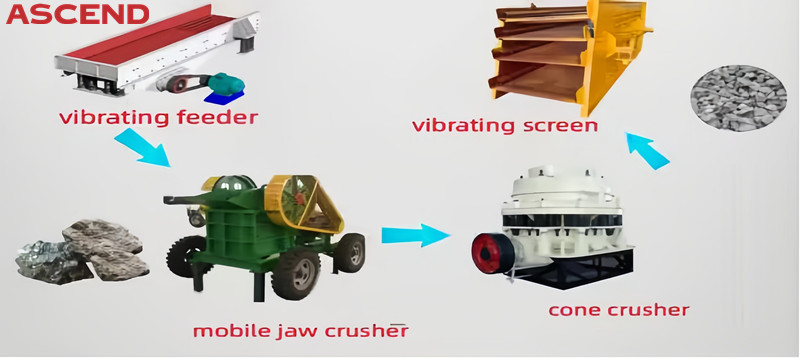 The mobile crushing plant is a kind of equipment integrating crushing, screening, conveying and other functions. With instant start-stop operation and the ability to operate in multiple locations, it can be easily transferred to the site, which is very suitable for various fields such as mining, construction and road engineering.
Mobile crushing plant are widely used in infrastructure projects, mining, construction and road works.In road construction, mobile crushing lines allow for easy material handling they can also help people easily crush ore into the required size, thus saving labor and materials.
In summary, mobile crushing lines not only have high work efficiency, but also are easy to operate and transfer, which can provide strong support for various mining and construction projects.